The Tutoring Center is located on the 2nd floor of our academic building, in the Academic Resource Center, Room 201.
Tutoring Center
Donnelly's Tutoring Center is dedicated to helping students excel in their classes. Tutoring for individuals and groups is FREE for Donnelly students. You can walk in to receive help or make an appointment. NOTE: During the COVID-19 pandemic, we are encouraging students to make appointments since tutors can work with only one student at a time. This will limit wait times. Links for making an appointment are found below.
Location: 2nd floor, Room 201 : The Academic Resource Center
Walk-In Hours of Operation:
Monday - Thursday: 9:00 a.m. - 5:00 p.m. (English and Math tutoring is offered at all times)
Friday: 9:00 a.m. - 1:00 p.m. (English and Math tutoring is offered at all times)
Does Tutoring Make a Difference? Consider This...
In a recent semester in one math course, tutored students scored an average of 1.35 points higher both in class grade and GPA than their classmates who did not attend tutoring. That is the difference between a D+ and B-.
In the same semester, in a composition course, 35% of students who never attended tutoring received F's or withdrew from the class. Among the students who attended tutoring, there were no F's or withdrawals, and in fact, 88% of the tutored students received A's or B's in the class.
Tutoring helps students get better grades!!!
To Make an Appointment:
Stop by the Tutoring Center to access the Sign Up Genius form and make an appointment for any time in the next seven days. You can also click on the button to the right. Same day appointments cannot be made online. You may make an appointment in the Tutoring Center directly if you need an appointment today.
Walk-ins are welcome! Early mornings, between 9 - 11 a.m, are great times to attend tutoring this semester. Things are quiet and you will get lots of attention. See you there!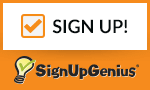 Tutoring Schedule - Fall 2023
---
Paper Review and Submission Process
Tutoring sessions can also be used for paper review. To get the most out of a tutoring session, it is helpful to have your tutor review your paper in advance. To submit a paper and make an appointment to review it, follow the directions provided here.
---
Supported Study
Supported Study is a student facilitated study group that can help students acheive success in challenging classes. Supported Study sessions:
Allow students to interact with one another and a student tutor in order to understand difficult concepts.
Allow students to work together to find an answer, reinforcing understanding of the material from class or textbooks.
Are a place to continue discussions from class and focus on class material. Supported Study leaders are trained to guide students with activities and thought-provoking questions.
How effective is Supported Study in helping students? For Chemistry 100 in a recent semester, students who attended Supported Study regularly, received a final class grade that was TWO LETTER GRADES HIGHER than students who never attended a Supported Study session.
Due to complications with COVID-19, no Supported Study sessions are currently scheduled. Please watch this space for more information on Supported Study in the future!

Need more information? Contact: